IN THE NEWS
posted: Sat, Feb 24th, 2018
Expert on safe social media use to present on March 5
Katie Schumacher, a social media expert, will speak to parents about the misuse of social media and ways to encourage positive messaging. Her "Don't Press Send" presentation will be held on March 5 in the MOMS auditorium, beginning at 7 p.m.
The presentation will help parents provide the guidelines and strategies to their children that will engender kind, healthy online interactions. Ms. Schumacher will show how parents can:
• foster a healthy balance between real life and technology
• teach kids to be mindful before they post by helping them understand that on the other side of their screens live real people who must be treated with kindness.
In addition, Ms. Schumacher will give insight on helping children create and reinforce their own boundaries, respect the needs of others, and make thoughtful, positive decisions. Most of all, she will help parents encourage their children to consider their choices before they commit to them, both on social media and in life.
Ms. Schumacher is the author of "Don't Press Send: A Mindful Approach to Social Media, An Education in Cyber Civics" and its free companion app. 
For the past five years, she has used her years as a certified teacher, her mindfulness training, and her on-the-job experience as a mother of three teenagers to spread the message about the importance of positive social media messaging. She frequently lectures throughout the tri-state area and has been a guest on many television programs. She has also been quoted extensively by Newsday and a variety of other local newspapers and family magazines, and has contributed to "The Hill," "Entrepreneur Magazine," and numerous other publications.
You can see her TEDx talk on YouTube at: https://www.youtube.com/watch?v=mfIGGpBIcg8
---
Young diplomats take home awards
MOMS students recently participated in the Junior Model United Nations conference at Drew University and took home four awards.
The model U.N. gave students an opportunity to immerse themselves in issues now facing the world and a chance to practice the art of diplomacy. The students were divided into delegations from different countries and each delegation addressed one of three global problems: education, nuclear proliferation, and clean water. The young diplomats spent months researching their countries and designated issues, then wrote draft position papers and resolutions that they would like to see passed.
Once at Drew, MOMS' delegations met with like delegations from 10 other New Jersey middle schools to hammer out the content and wording of final resolutions that would be later voted on by the model U.N. General Assembly. It was two hours of debating, collaborating, and compromising as the delegations tried to realistically represent the unique positions and interests of the countries they represented.  
"What was really interesting was how different opinions were," said Akila Venkatraman.
The students saw that even topics such as nuclear proliferation were more complex and nuisanced than they first thought.
"There were a lot of people in favor of eliminating all nuclear weapons," said Yogesh Mohapatra, part of the delegation representing Colombia. "But some wanted to keep them for security. There was also the issue of how countries could monitor each other's disarmament."
After the resolutions were finalized, it was time for the main event. One school delegation from each subcommittee spoke at the General Assembly and answered questions about its proposed resolution. Not all resolutions were greeted warmly. While it was disappointing for some students to see their hard work turned down by the other delegates, after the conference all the MOMS students understood that the experience was the important part.
"We learned what's happening in the world," said Molly Kahan. "It was a great representation of how the U.N. works. Before this, I wasn't really sure exactly how things got done."
"You've got something [nuclear weapons] that could kill everyone on the planet," Bryan Thomas said. "When you find a way to stop it, you feel like you are actually helping, that you can help. It feels really good."
Ann Greszczak teaches the MOMS gifted and talented program. Prior to the competition, she led students on a field trip to the United Nations in New York to help them better understand its importance and the way it functions.
The Junior Model United Nations conference was co-sponsored by the New Jersey Consortium of Gifted and Talented Programs, Inc. and Drew University Political Science and International Relations department.
The winning MOMS delegations, countries of representation, and topics were:
Best delegation, Philippines, Water
Molly Kahan
Grace Lazzarotti
Bryan Thomas
Outstanding delegation, United States, Education
Jenna Alessandrini
Aanya Khanderia
Victoria Morris
Anish Patel 
Best Position Paper, Colombia, Nuclear
Sammil Panda
Yogesh Mohapatra
Rahul Swaminathan
Best Position Paper, Argentina, Education
Katie Keegan
Olivia Aghabi
Akila Venkatraman
For more school news, click here
Hey Hawkeyes,
You know how time can feel like it's going so slowly but then you look back and you have no idea where the time went? That's pretty much what's been going on. In the week before Thanksgiving break I had a ton of homework due and a test each week with three right before Thanksgiving break. But I also found some time to have fun too. College can be stressful and you really need to balance school and fun. Sometimes it can be tough when you're living in the dorm because you feel like you're always at school. If you make the most of college though, the dorms can actually become the best thing. You always have people to study with. My engineering friends and I have Thermo Thursday where we all get together and work on the Thermodynamics assignment together since it's due Friday. We all try to start it a little bit early so we can compare answers and rework problems if there's a discrepancy in the answers, but let's be honest, most of us start that night. Here's one of our Thermo Thursday parties.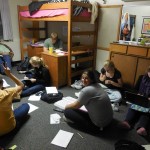 Study party!
I wish I had the picture from the Thermo Thursday a couple weeks after this one; we had so many people we ended up in the lounge with 4 tables pushed together and some people on the floor.
Sometimes you have to reward yourself when you've been working hard. My reward for working hard/finally taking a break from homework, class, and tests was to see the musical "Wicked" in Chicago. The Campus Activities Board(CAB) organized a trip to see the musical on a Saturday night. We got on the bus at 3pm and arrived home at 3:30am the next morning. It was a long night, but so much fun. I was so glad to have friends go with me too!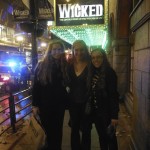 Wicked!
I tried to convince myself that I would do homework on the bus there, but then we watched "The Wizard of OZ" and "Rent", so homework didn't really happen. It was a great relaxing weekend and I absolutely loved seeing "Wicked". This trip was my first time ever seeing it and it was awesome! I couldn't have been more excited for this trip; now I want to go see it again.
The weekend after "Wicked" was the last home game for this football season. Remember my last post where I said games were getting colder?
Well, this last home game was pretty cold. Actually, it was really cold! Everyone was bundled up. I hadn't had the chance to bring my snowboots and as it turns out, regular shoes just don't keep your feet warm even when you're wearing three layers of socks.
Going home after the game was definitely one of the best feelings ever. Just something about knowing you have an entire week of no class, no turning in homework, and finally getting caught up on sleep is simply exciting. I heard some first years talking about going home for the first time and I realized that as a first year, I hadn't really thought about what it would be like going home for the first time since I live so close. However, I realized that everything they were saying was just as true for me as it was for them, even now as a sophomore. So why is going home in college so different? Well,
1. Driving a car for the first time after being gone for weeks or even months is one of the weirdest things. My friends and I were all used to driving to school and driving to all our activities. Now in college, we walk every where or take a bus. When we finally get home, climbing into a car can seem strangely strange. You wouldn't think it would feel so weird, but it does.
2.Homework should really be done over a weekend of going home, but it normally just doesn't happen. Even over long breaks like Thanksgiving(although this break, I actually did quite a bit of homework), it's really hard to get motivated to do homework.
3. Sleep is an amazing thing and nothing it better than being able to sleep in your own bed again. Something about being home, or even just going home, is calming and puts you to sleep right away. One of the first-years I was talking to  said that since she lived 3 hours away she was going to do homework on the ride there and back so she could finish her homework without having to actually do it at home. This is a combination of both point 2 and point 3. She said she got in the car and she just fell asleep right away. Then she didn't do the homework at home, slept on the way back, and stayed up way too late trying to finish the homework.
Those are probably the three top things that everyone deals with, so don't feel like you're the only one struggling with motivation or think you're a bad student for not doing homework when you go home. You can definitely fix those issues, but you don't have to feel alone either.
Until next time, Hawkeyes, stay warm!